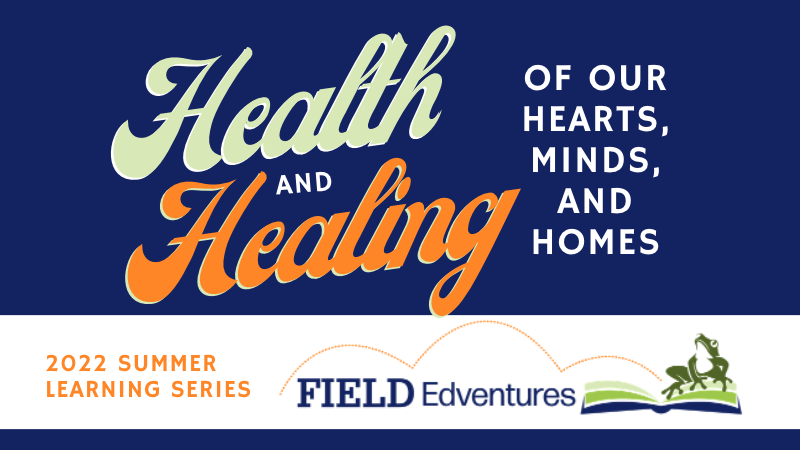 Health and Healing of Our Hearts, Minds, and Homes
A four-day virtual Institute on July 13,14, 20, and 21 from 8:30-12:00 and a one-day in-person regional immersion field experience on July 19th from 9:00-3:00 (location TBD).
Participants have two options to attend: 
• Apply for a fully-funded Fellowship (see requirements below) 
• Participate as a non-fellow for a reduced registration fee of $90
The Fellowship Application deadline is June 10 (applications submitted after this time will be reviewed as space allows). Each team member must complete an individual application form. Team fellowships will be awarded on the strength of all team member applications and a follow up interview may be scheduled with the team. Teams will be notified of their award within a week.
Participants will:
Connect mindfulness and the outdoors for personal wellbeing with Kenya and Michelle Jackson-Saulters from the Outdoor Journal Tour. 
Explore your community's watershed, climate, and cultural connections with fresh new activities for your classroom and school yard. 
Design student engagement opportunities that support personal and planetary wellness. 
Summer Learning Series attendees can expect: 
Four interactive, online sessions that bring together theory and classroom application

One in-person regional field day with hands-on experiences to put learning into practice

Classroom Resources including G-WOW and Minisan educator materials, Nature Meditations card deck and may include Climate, Water and Resilience Educator Guide, Climate and Wildlife Educator Guide, and more

Networking with colleagues from across Wisconsin
Fellowship Awardees can expect these added benefits:
→ Skill in designing Meaningful Watershed Education Experiences (MWEEs). 
→ As a result of bringing this experience to the classroom, students will develop scientific and reasoning skills to examine issues that impact the health of the school's local watershed through participation in MWEEs of at least 10 hours with a minimum of 4 hours to take place outdoors.
→ Each school will receive customized coaching support from FIELD Edventures as agreed upon by the school and FIELD coach.
School Team Composition:
PK-12 classroom teachers, school leaders, and non-formal (nature center, school forest, state park system, other) environmental educators or community volunteers are encouraged to apply as a team.
If you are interested in this opportunity, but do not have a team, please complete the application and indicate that you would be willing to allow FIELD Edventures to match you with a team.
Expectations:
Each team member must commit to full attendance of all 4 days of online learning experiences on July 13, 14, 20 & 21. 
Each team member will attend one in-person regional immersion experience. It is recommended that teams attend the in-person immersion experience together in their region, but participants may choose the location that works best for their circumstances.
Each Team will implement MWEE developed as a result of the Summer Institute with coaching support for field-based inquiry provided by FIELD Edventures. The deadline for these experiences will be established in collaboration with FIELD Edventures.
School teams and individuals will participate in brief surveys and reports requested of FIELD Edventures in a timely manner.
Submit your application now.
Funding for this opportunity is possible through including NOAA, James E. Dutton Foundation, Wisconsin Coastal Management Program, and Wisconsin DPI all which help keep your registration costs low.