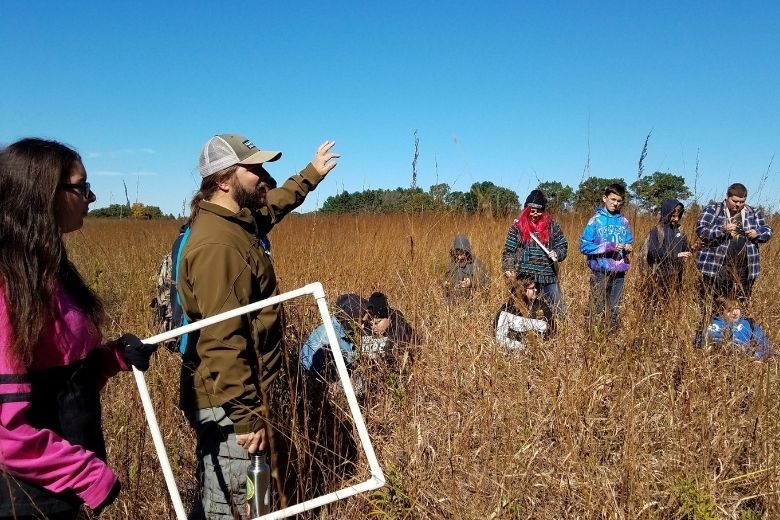 Since 2010, High Marq Environmental Charter School has offered a project- and place-based learning alternative for students in and around the Montello School District in rural Marquette County, Wisconsin. The FIELD Corps model of learning through discovery and student inquiry has been at the root of our school's success from the beginning. Early on, we used charter grant money to contract for the field biologists who led our students on weekly adventures to school forests, restored wetlands, and other local natural areas. Later, when the grants were over, we continued to prioritize FIELD Corps membership in our annual budget, and Thursday field days have become part of the fabric of our school.
High Marq's vision is, "Compassionate Learners, Meaningful Work, Sustainable Communities," and over the last decade, we have cultivated this vision through our partnership in the FIELD Corps program. Students working in mixed-age teams cultivate compassion as they learn to see every individual as a valued member. Our students' meaningful field work has included the construction of an outdoor classroom that is used regularly by our elementary school. Other field days have involved work with ongoing restoration projects in Marquette County, contributing to the sustainability of our local ecosystems and ecotourism economy.
In 2017, High Marq received the Wisconsin Association for Environmental Education's Earthguard Award for our field program. Later that year, Tiffany Lodholz joined our staff as a part-time Classroom Assistant, bringing with her extensive experience with informal education and connections in the local community. After two years of working in the classroom and occasionally joining us for field experiences, Tiffany took the leap to becoming our full-time Field Naturalist / School Assistant in 2019.
Taking our field day planning and implementation in-house has helped us to formalize the idea that field experiences are High Marq and High Marq is field experiences. Through Tiffany, students now have a much more direct connection to the weekly field experiences. Because she gets to know students every day in the classroom, she has been able to differentiate experiences and ensure that every student has at least one field day each year that connects to their personal interests. Our arrangement also allows us to be more flexible with our scheduling. Nature doesn't always conform to our schedule, so if something exciting is happening on a Tuesday or a Friday, we can shift our field day without much trouble.
Ultimately, a permanent staff position is more sustainable—students and teachers might come and go, but the Field Naturalist position is now firmly established in our budget. We continue to engage in professional development opportunities through FIELD Edventures whenever possible, and they remain an invaluable partner to our school.
---
Skylar Primm, Guest Writer
High Marq Environmental Charter School
Skylar L. Primm teaches at High Marq Environmental Charter School, a project-based learning school in Montello, Wisconsin. In 2017, he was the recipient of a Herb Kohl Educational Foundation Fellowship in recognition of his teaching, leadership, and service. He currently serves on the boards of directors for the Human Restoration Project and the Wisconsin Association for Environmental Education. He blogs at medium.com/@skylarp, usually for the Greater Madison Writing Project. You may contact Skylar by email.